Start Losing Weight…Now.
The only diet that works is the one you can stick to. That's the primary reason we recommend the use of weight loss boosters with all our medical weight loss plans. Active weight loss should be fast and easy!
Effective weight loss tools mean you don't have to rely on willpower. They help crush hunger and fatigue so that you can lose weight like never before.
Weight Loss Boosters
Medical Foods
Crush Your Hunger! Safe, fast weight loss requires tasty nutrition. The use of our high protein products to supplement or replace meals helps to improve your metabolism, promote ketogenesis and burn fat.  
Whether you want to lose 20 or 200 pounds, LivLight Weight Loss food products help you feel full and protect your lean muscle while you lose weight fast.
Numetra is an advanced nutritional line that helps promote optimal metabolism and fast weight loss:
A blend of whey, and micellar casein provides a steady supply of amino acids. Only 160 calories and your hunger is gone for hours!
Isomaltose – supports healthy blood sugar control
Medium Chain Triglycerides (MCT) create a faster fat burn
One Patient's Experience
"What can I say about LivLight Weight Loss Clinic? SO much. I have lost 30lbs since joining their weight loss team, which for me is the most exciting part of it all! This group of motivators have CHANGED MY LIFE! Try them out, because if you're looking for a permanent solution to a temporary problem, LOOK NO FURTHER! Thank you, LivLight Weight Loss Clinic, you helped me achieve what I could not do on my own!" Amanda R.
Click Here for a Free Consultation or call (703) 591-2091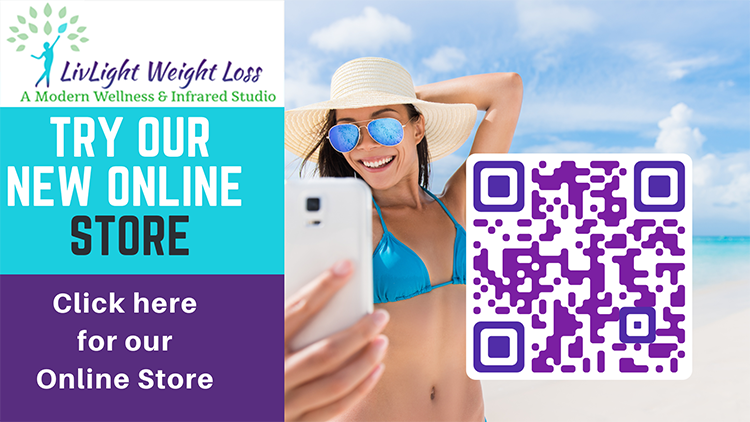 Prescription Fat-Burning Liquid
Keep it in your car, purse, or at your desk. Specially formulated to help you burn fat, it's easy to use, and will boost metabolism and crush cravings. If you follow a remote plan, this is for you! Ingredients include:
M.I.C. (Methionine, Inositol, and Choline) – Lipotropic ingredients that help burn fat and transform carbs into energy.
L-Carnitine (Acetyl-L-Carnitine) – Burn fat and power your brain. Improves mood, learning, and memory. Extra fat burn can increase your endurance, and help you lose weight faster.
Vitamin B12 (Methylcobalamin) – Concentrated Vitamin B12 can help to improve energy levels, boost metabolism and curb stress eating. (This product requires medical supervision.)
Click Here for a Free Consultation or call (703) 591-2091
Another Patient's Story
"After watching my best friend lose 40 pounds with LivLight Weight Loss, I knew I had to do this for myself too! My weight loss journey with LivLight has been amazing. I am proudly wearing sizes 8-10 and happy to see myself in the mirror. The staff at LivLight have been informative, supportive, and are encouraging at every weekly meeting. This is one of the best decisions I have made for ME! Thank you LivLight Weight Loss" Deb S.
Carb Blockers
Can't eat healthy all the time? We are pleased to present Carb-No-More from LivLight Weight Loss. All-natural ingredients that intercept the absorption of carbohydrates and fats, preventing them from being absorbed fully. Just take 2 capsules 5 – 10 minutes before a meal with carbohydrates or alcohol and keep losing weight!
Call (703) 591-2091 for availability
Energy Patches
Boost energy, focus & cut hunger all day long! A small patch placed on your arm or leg each day can help increase energy, improve sleep, suppress appetite, and enhance your weight loss. Naturally!
The Energizer
Our vitamin B12 injections can help to improve energy levels, boost metabolism, and curb stress eating. They also provide essential protection to your organs and brain during aggressive weight loss. Especially useful for our vegan and vegetarian patients.
One More Success Story
"I decided to come into the center when I realized it was time to make a change in my life. I experienced the most genuine and down-to-earth team at this center. I have enjoyed coming here on my weight loss journey. Although I have already reached my goal, I still come into the center regularly for my vitamin injections (which have helped tremendously)." Robert H. 
Not sure which one is best for you? Schedule a Free Consultation with us today!
Professional ProBiotics
The gut bacteria (microbiome) of an individual who is a healthy weight is different than the gut bacteria (microbiome) of an overweight/obese person.
We've chosen a Probiotics® Professional Formula with 12 distinctive probiotic strains, resulting in a formula designed to optimize your digestive process while you lose weight. This scientifically blended combination helps your body replenish its supply of good bacteria allowing you to achieve your weight loss goals with a minimum of effort. An overall optimizer of good health, we recommend them for everyone who desires fast, easy weight loss.
Consultations are Always Free at LivLight Weight Loss!
Schedule a Free Consultation with us to talk about your goals (In-clinic, by phone, or zoom session)
or
Call (703) 591-2091 for an Appointment
 *Results vary depending on your starting point, goals, and effort.