Lose Weight Fast From The Comfort Of Your Own Home
Join our successful weight loss program directly from home! Our Virtual Clinic uses the power of Telemedicine to keep you connected to our experienced professionals from Day 1. You get the same expert coaching and state-of-the-art tools that we provide to in-clinic weight loss patients.
Lose up 2-6 lbs. per week.
Our at-home programs use real foods combined with expert live coaching, doctor-prescribed appetite suppressants, prescription fat-burners, and weight loss boosters to put you on the fast track to weight loss.
One Patient's Experience
"I wish I had heard about them sooner! I struggled with my weight loss journey over the course of a few years. I tried so many different places, diet programs, and even spent a lot of money on personal trainers that just simply did not work. The team here has helped me lose over 60 pounds and I was able to keep it off." Melissa M.
How Does Our Remote Weight Loss Work?
Everything you need comes right in a box that we ship directly to you. You can literally unpack the pieces you need to start losing weight right away, as easily as unwrapping a gift.
Medical Screening & Doctor's Review
We send you everything you need to complete the comprehensive medical screening process at your home, and then meet with one of our medical professionals via a zoom telemedicine meeting. If you`re on an aggressive medical weight loss program, the doctor can provide a prescription for FDA approved appetite suppressants directly to a pharmacy of your choosing. 
Our medical staff can also prescribe a "Home Kit" of the newest weight loss medications Semaglutide (Ozempic and Wegovy) and Tirzepatide (Mounjaro). Compounded GLP-1s help you feel satisfied with fewer calories so you can achieve fast weight loss with just one weekly injection!
Individuals must qualify medically for all prescription appetite suppressants. GLP-1 medications cannot be shipped from our pharmacy to certain states. Contact us for more information.
Virtual Live Coaching & Personalized Food Plans
We make sure you actually reach your goal! People using a structured program with nutritional counseling lose up to 3 times the amount of weight as those who try to lose weight alone. Our friendly staff designs a plan that fits you and your lifestyle. Weekly meetings are done via zoom, allowing you the scheduling flexibility needed to reach your weight loss goals with the help of our trained staff.
Prescription Fat Burners
Our prescription liquid fat burner is specially formulated by our pharmacy with lipotropic (fat-burning) ingredients. It's designed to be easy to use, helps boost your metabolism, and crush cravings.
Another Success Story
"I can't say enough good things about the team. After seeing a friend's amazing weight loss results and hearing her comments about the staff and Doctor – I decided to go for it! From day one, I've felt like I would be able to follow the diet required for weight loss. I'm down 15 lbs. in two weeks and confident I have the tools and resources through LLWL to achieve my weight loss goal. Don't hesitate to take that Go -For-It step!!" Elizabeth T.
Weight Loss Boosters
Fast, safe weight loss requires tasty nutrition and metabolism enhancers like our Energy Patches and "Carb-No-More" capsules. The use of our high-quality protein products to supplement or replace meals helps to improve your metabolism, promote ketogenesis and burn fat.  
Check out our online store!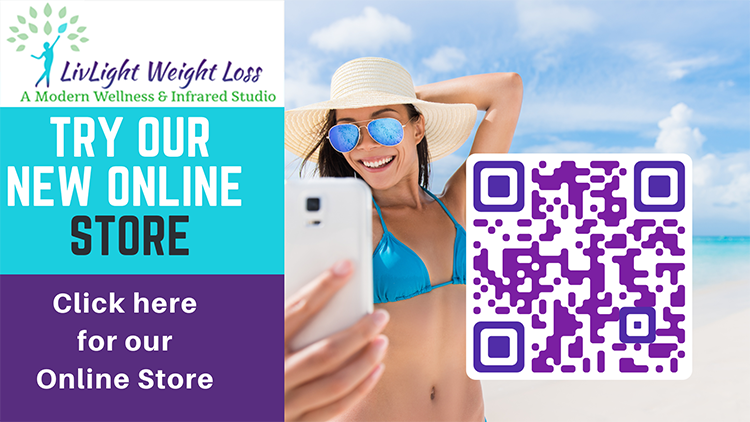 Click Here for a Free Consultation or call (703) 591-2091
View this video!
LivLight Daily APP
Track your success right from the palm of your hand and let us coach you to improve your results. Log your meals from 800,000 food items and communicate with us confidentially right inside the app. Your documents, delicious recipes, and exercise plan are also stored in the App, so you have everything in one place to make losing weight a breeze.
The App also delivers your personal daily support plan which uses the latest in behavioral science to empower you to take control over your health and weight, keeping you easily motivated!
Another Home Based Success Story
"The journey in losing weight was a great experience for me. I was losing the weight as I was being educated in making better choices in eating healthy and maintaining my weight off for the long run. I have lost 30 pounds and still maintaining my weight. I am grateful to have joined LivLight Weight Loss. It has made me feel better within. Thank you" Susi R
Bluetooth Biometric Scale
Included with every program is a biometric scale that connects directly to your App account! This scale tracks your weight loss while monitoring your fat percentage and muscle mass to insure healthy, fast weight loss. It uploads automatically, allowing our doctor and counselors to measure your personal progress and customize their recommendations for you each week.
Once you reach your weight loss goal, you'll move into our STAR (Steps To Avoid Regain) Maintenance Plan, which was developed by an entire team of weight management scientists so you learn to eat for your new body and keep those extra pounds off for good.
LivLight Weight Loss Remote Plans offer the most comprehensive and effective combination of easy medical weight loss, virtual coaching, mobile technology, and lifestyle medicine that help guarantee that you will lose weight quickly, and keep it off for the long term.  
Contact us, call (703) 591-2091, or schedule online for a Free Virtual Consultation
Schedule Your Free Consultation Today!
 *Results vary depending on your starting point, goals and effort.